Order the CD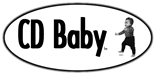 Ordering your own copy of Paper Cuts is simple. The CD is available exclusively through CD Baby, the world's best online retailer of independent music, and a bunch of really cool guys.
>> click here to order from CD Baby
Fast delivery
CD Baby has super fast service. If you're in the US, you will probably get your CD within 4 business days of placing the order. And if you're in more of a hurry than that, they offer overnight shipping, as well.
>> click here to order from CD Baby
Completely safe
CD Baby uses the most secure and private web software available. They don't store any of your information online, so there's no chance of losing your credit card to a hacker. And they never give any of your personal data to anyone else except the artist whose CD you bought (that's us).
>> click here to order from CD Baby
Fully guaranteed
We are so convinced you are going to love Paper Cuts that we back it up with a 100% money back guarantee. That's right. We promise you will enjoy this CD and listen to it again and again.
If you aren't happy with Paper Cuts for any reason, yjust return it within 14 days and CD Baby will give you a full refund of every penny! No if's, and's, or but's. How many CDs have you bought that offer that promise? Well, that's how much we think you're going to enjoy this CD. You have nothing to lose, so place your order today.
>> click here for more on the guarantee
>> click here to order from CD Baby
Still not convinced?
Are you still feeling uneasy about buying the CD online? Want instant gratification? Care to support a local CD store instead of one in Oregon? Well, there's even an option for you. You can also purchase Paper Cuts at the following CD retailers in the Denver area.
Black & Read - 7821 Wadsworth Blvd, Arvada - you'll have to ask for it by name, because they don't have a spoken word section